Meet Our Doctors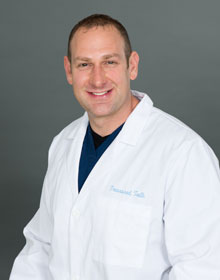 Dr. Derren E. Tippets committed to two years of specialized training above the four years of required general dental training to become a Pediatric Dentist, because of his love for children and his love of dentistry. Being able to work with both made all the extra effort worth it! He graduated with a DMD from Nova Southeastern University in Fort Lauderdale, FL; and received two extra years of specialized training in Pediatric Dentistry from Temple Hospital in Philadelphia, PA.
Dr. Tippets' experience with youth has been extensive. In addition to his residency at Temple Hospital, Dr. Tippets has served as a nursery leader (ages 18 months-3 years) for 3 years, a leader of the boy scouts for several years, and was a home health-care provider for special needs persons for one year.
Dr. Tippets is a native of Colorado and feels very blessed to be in Montrose. He is convinced it is one of the best places Colorado has to offer! He enjoys watching football, skiing, snowboarding, fishing, playing his guitar, continuing to study science, and spending time with his four children.
---
Dr. Michele Lacy
received her DMD from Harvard's School of Dental Medicine and completed her specialization residency in Pediatric Dentistry at Children's Hospital Colorado, one of the nation's top 5 hospitals for children. Dr. Lacy also completed a three-year residency in geriatric dentistry at Harvard University. She has a love for caring for children and an unwavering commitment to quality, pediatric care.
Dr. Lacy is also a Diplomate of the American Board of Pediatric Dentistry. As a Diplomate, Dr. Lacy is Board Certified and has successfully completed additional voluntary examinations, and demonstrated specialized knowledge and skill in her field. She has extensive pediatric training in oral sedation, general anesthesia and emergency care. Dr. Lacy is also experienced in caring for children with special medical needs. She has had several articles published in professional and academic journals and has received awards for her research, including from the American Academy of Pediatric Dentistry. She is a contributing author to The MassGeneral Hospital for Children Handbook for Pediatric Global Health, one of the world's leading publications on quality care for kids.
Dr. Lacy is originally from Fortaleza, Brazil and is fluent in Portuguese and Spanish. She is married to her loving husband Colin, who grew up on the Western Slope of Colorado. They are the blessed parents of their two sons Liam and Noah. They have a beagle named Bagel and like to spend their time playing in the outdoors. As a result of her husband's persistence, Dr. Lacy has become a major Broncos fan and enjoys skiing, hiking and whenever she can find a little time, reading a good book. Dr. Lacy is proud and excited to raise her family in such a special community here in Western Colorado.
---
Dr. Tanner Schuurmans
graduated with a DMD from Midwestern University in Glendale, Arizona. He is a member of the American Dental Association and the Academy of General Dentistry. He fell in love with pediatric dentistry while working with kids on a dental mission trip to Peru during school. After finishing school in the desert, Dr. Schuurmans moved to Denver to experience all that the Colorado lifestyle has to offer. During his free time he tries to get to the mountains as much as possible to hike, camp, and ski.