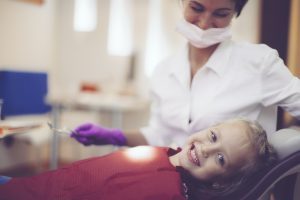 Remember back when you were a small child and you feared to go to the dentist? Anytime your parents even mentioned a dental office, you cringed and pictured a looming doctor in a long white medical jacket, a mask covering half his face, and sharp glistening tools beneath the dull industrial lighting. In many cases, the apple doesn't fall far from the tree. Although your kid's dentist in Thornton, CO is here to help keep your child's teeth and gums healthy in the most gentle and friendly way, many children have the impression that the dentist is an evil doctor out to get them. It's really important to help your children relax before visiting Treasured Teeth. By helping your child realize that the dentist is here to help them, their dental appointments can run a lot smoother and they can receive the dental care they truly need. If your family still needs assistance, we offer sedation dentistry for our little patients that are extremely apprehensive.
Calming Your Child Before Their Dental Appointment
Visiting the dentist is an important part of any child's healthy development. General dental appointments for little patients, even as early as one years old, are in place to monitor your child's growth, prevent dental problems down the line, and professionally clean their teeth and gums. If your child is too scared to visit either Dr. Tippets or Dr. Lacy, they could be missing great services that can benefit their overall health. Combatting dental anxiety at an early age is also important so that your son or daughter doesn't grow up avoiding the dentist and end up putting his or herself at risk for gum disease or tooth loss. Some things you can do to help your child realize our dental office is a fun, friendly place to visit is:
Virtually touring our office (visiting videos and exploring our kid-friendly website).
Openly discussing the purpose of dental appointments and familiarizing them with the idea of going to the dentist.
Practicing dental care at home (you can even make it a game, instead of playing "doctor" play "dentist").
Additional Assistance: Sedation Dentistry
Treasured Teeth strives to provide the happiest place for kid's dentistry in the Thornton area. Our priority is your child's comfort and safety. We do our best to make their office visits warm and inviting, but some children still experience dental anxiety. In the instance that your child is unable to relax before their dental appointment, your pediatric dentist in Thornton, CO offers safe sedatives proven to be a fantastic option comforting children and reassuring parents.
Nitrous Oxide (Laughing Gas)
This quick, mild sedative that relaxes children with minor dental phobia. This sedative does not put children to sleep. Your child can hold a full conversation while still having their gas mask on and will quickly recover from the sedation as soon as their dental appointment is over.
Oral Conscious Sedation
Although not as pronounced as general anesthesia, oral conscious sedation is a heavier sedative that is administered through a juice mixture with the appropriate amount of medicine. This magical juice will make children feel a little drowsy and usually, children tend to fall asleep for the whole dental visit. After the appointment, your child will probably have a numb mouth but still be alert and responsive as normal.
General Anesthesia
This form of sedation is for children that have severe dental anxiety or extensive dental work that may be considered scary or painful. We want your children to experience pleasant dental visits, so we will bring in a general anesthesiologist to administer the sedative and monitor your child. While your child is asleep, he or she will not be able to feel a thing or have hardly any memory of their dental appointment. They will most likely be sleepy for the rest of the day but return to their normal, active selves soon after.
Schedule Your Child's Next Appointment
At Treasured Teeth, we are committed to ensuring that each and every one of your child's visits is pleasant and comfortable. We offer proven safe sedation services for children that need a little extra help relaxing at the dentist. Call us today to schedule your son or daughter's next dental appointment and ask us about which way is the best for your child to receive the dental work their little smiles need to stay bright and healthy.