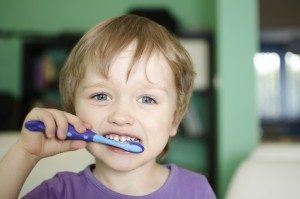 Most other children's dentist offices don't really cater to young patients, especially when it comes to providing a kid-friendly atmosphere. At Treasured Teeth in Thornton, CO, we do things differently. Do you know of any other offices that house a huge pirate ship playhouse? We didn't think so. Dr. Derren Tippets' love for children shows in the excellent care he provides for each patient, and the warm, inviting office atmosphere he has constructed. It truly is a unique practice for young patients.
Pediatric Dental Cleanings
Every parent's wish is for their child to be as healthy as possible. Oral health is no different – young smiles are constantly developing and need professional care. At Treasured Teeth, there is a lot we can do to encourage a healthy lifestyle including eating healthy foods, brushing and flossing daily, and other tips. Frequent checkups are a great way to assess your child's oral health. Healthy smiles depend on diagnosing and treating the most common oral health problems quickly, and a dental cleaning is part of the process.
One of our dentists will complete a full oral exam checking for signs of decay, gum disease, and more. In addition, a friendly hygienist will have the chance to clean excess bacteria and plaque away from your child's teeth and gums. Bacteria and plaque wreak havoc on a little one's teeth and, if left untreated, can cause decay and gum disease. Top-notch oral health is essential for your child, and we take our jobs very seriously. At Treasured Teeth, we're all family.
We Proudly Accept Medicaid
When it comes to your child's oral health, you can't cut corners. We understand that financial problems can arise, which is why we are proud to accept Medicaid. Colorado Medicaid is a publicly provided health insurance program for lower income families who financially qualify.
This helpful program includes:
Annual dental benefit of up to $1,000
Cleanings/exams
Root canal treatment
Dental fillings
Periodontal scaling and root planing
Crowns
Your child's oral health is important to us, and we always have their best interests in mind. We will work with you to maximize your benefits.
Make An Appointment Today
To schedule an appointment, please speak with our friendly staff scattered around the area in Commerce City, CO, Thornton, CO, and Montrose, CO. We also serve the surrounding areas of Westminster, Arvada, Denver, Aurora, Watkins, Olathe, Cimarron and beyond. We look forward to serving you and your family!